ADHD Coaching
Get Your Blueprint for Success
(Learn to Coach Yourself and Your ADHD)
Do you have trouble getting started with your day?
Do you procrastinate over important tasks that need to get done, but never do?
Are you overwhelmed with the pressures and demands of your work and personal life?
Do little things irk you to the point where they build up and you blow your top like a human volcano?
Do you become immobilized with negative thoughts that keep you trapped in your head so you can't feel anything in your heart?
If you experience any, or all of these, on a daily basis, why not learn how to overcome these invisible challenges from one of the most respected,  experienced, certified professional coaches on the globe, Jeff Copper and founder of Attention Talk Radio and Attention Talk Video.
Jeff has empowered countless numbers of adults with ADHD to create a more fulfilling, successful, and joyful life by teaching them how to create their own personal "blueprint for success" with their own ADHD.
ADHD Blueprint for Success is an innovative program developed by attention and ADHD coach Jeff Copper. In the program Jeff coaches your inner coach on how to deal with, manage, and move past the invisible barriers of ADHD to map out your blueprint for success.
Like ADHD barriers, attention is invisible. Think about it. Only you can observe what you are attending to. This means you've never witnessed anyone else's attention. Put differently, when it comes to attention, you have nothing to compare it to and, thus, attention is invisible.
The program is revolutionary because Jeff has unlocked THE SECRET of attention. Jeff uses attention exercises to transform attention and the attending process into something more visible, more tangible, more concrete, and more recognizable. By making the invisible visible, Jeff can coach your inner coach to manage your ADHD in ways never thought possible just five years ago.
The program pays attention to four key elements: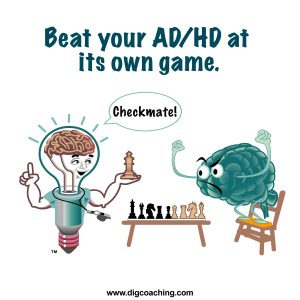 4. Beating your brain at its own game:  Taking what you have learned, your new awareness, your developing observational attending skills, and Jeff's insights, Jeff will coach your inner coach on how to manipulate the environment to move forward using your natural patterns of attention. Effectively, Jeff will coach your inner coach to witness your ADHD and learn how to use your ADHD brain to beat your brain at its own game.
Knowledge Gained in This Program
A revolutionary way to understand ADHD that makes sense in ways the deficit of attention model doesn't.
The knowledge and ability to better articulate your ADHD experience that can be shared and understood by those whose mind is open to it.
An in the bones understanding of ADHD, giving you more confidence to advocate for yourself.
A clearer understanding of who you are and your dominant learning modality.
A new understanding of attention with insight on how to manage it as a process, not a thing.
An understanding of the source of your impulsivity and distractibility, plus the awareness of how to manage it.
Observational Attending Skills Learned and Applied after This Program
How to PAUSE and ponder before you proceed… how to override the impulse to react and to pause and then respond.
How to recognize your individual processes and replicate them to get outcomes.
Understanding of the role pressure plays, its ability to paralyze, and how to down-regulate emotions to manage pressure.
How to witness the inner source of your

procrastination

and the process that will move you forward
How to reveal your

time management

receipt, the barriers to managing time, and techniques to override your time blindness.
How to witness your existing

organizational systems

that work and how to build upon them.
How to create strategies to help you coach your inner coach to new possibilities.
How to write your own user manual.
When is the ADHD Blueprint for Success?

OOPS! You missed the start of our class. 
About the Program
The program includes one one-on-one interview with Jeff to gain insight on who you are and your dominant learning/processing style and 12 teleclasses focused on mentor coaching your inner coach around your ADHD Blueprint for Success. Class size is limited to eight participants. Audio recordings of all calls are available to participants in case a class is missed or for post-call review. The focus of the program is to create awareness, help you develop your ADHD blueprint for success to help you move forward. The program is ideal for those who cannot afford one-on-one ADHD coaching or who are skeptical about the ADHD coaching paradigm and want to sample it before they make a commitment.
The question is, are you motivated? Are you ready to do the work, gain the knowledge, search for the tools, and escape the plight? Are you tired of drowning in the sea of well-meaning, yet ineffective strategies and advice? Being judged by your inability to cope?
About Jeff Copper
Jeff Copper, MBA, PCAC, PCC, ACG is credentialed and recognized as a Professional Certified ADHD Coach by the Professional Association of ADHD Coaches (PAAC) and a Professional Certified Coach by the International Coach Federation (ICF). Jeff has successfully coached and mentored hundreds of individuals impacted by ADHD. As founder of DIG Coaching Practice, Jeff is an attention coach for individuals and entrepreneurs with ADHD seeking personal or business results.
Jeff is also the founder and host of Attention Talk Radio with more than 450 interviews and over 210 hours of content with ADHD and attention experts! He is a graduate of the ADD Coach Academy and an outstanding teleclass leader.
 What Others Are Saying about Jeff…
"I am very impressed with Jeff's coaching. He is an expert at helping you figure out how your brain works and invent processes that work for you. Since working with him, I have made many changes resulting in greater efficiency in life and in my business. He is highly structured, focused, and always starts and ends on time." ~ Birgit Zacher Hanson, MCC
Jeff kept the perfect balance of being tough, honest, and direct by being kind, complimentary, and encouraging. This month I completed my advanced course work and hope to get certified. I have learned a lot about coaching strategies and models through my coursework, but I have learned about the heart of being a coach from Jeff Copper. I could not have asked for a better mentor, coach, and friend. Thank you." ~ Kirsten Milliken, Ph.D, ACC
 When is the ADHD Blueprint for Success?
OOPS! You missed the start of our class.