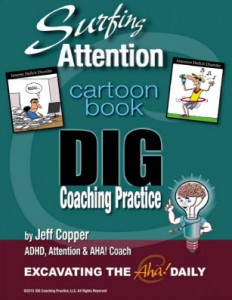 The old adage, laughter is the best medicine, has been studied and the conclusion is that laughter can enhance your learning ability, reduce stress, improve memory, and even burn up calories! This is just a few of the mind, body, and spirit benefits of laughter.
DIG Coaching is all about insights and "Aha!" moments that change how you manage ADHD. To help you along, we offer a cartoon book, "Surfing Attention," that you are sure to identify with, gain insights from, and find clarity for complex situations and concepts. Hopefully, you'll have some good, healthy laughs.
Take a moment to relax and laugh with "Surfing Attention" by downloading the book. For only $4.99, what have you got to lose? Maybe some stress and calories!
Get your giggle on for just $4.99