ADHD Aha Group Coaching Program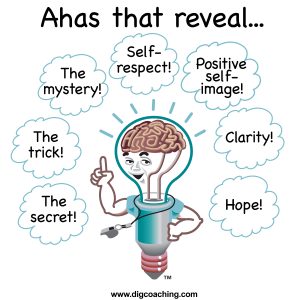 Got issues? Got problems? Solve them by excavating the Aha!
The invention of the wheel, fire, and refrigeration were Ahas whose benefits transformed mankind in infinite ways.  Imagine yourself being transformed and receiving the benefits of the Ahas we excavate daily!
The Ohhh… NOW I get it! Aha
Procrastination and time blindness Ahas
Ahas that reveal the mystery
Ahas that reduce anxiety and suffering
Ahas that bring peace of mind
Ahas that bring clarity to what was complex
DIG Coaching Practice Foundational Aha! Principles
What is obvious depends on what you attend to.
If the obvious isn't working, chances are you're attending to the wrong thing.
Ahas, or the shifting of attention, are The Holy Grail of problem solving.
We don't believe in magic, but we do believe in Ahas.
Our ADHD Aha group coaching program is like no other.  Excavating Ahas is a method-based process, not magic.  Our coaching is founded on a methodical process to excavate Ahas daily!
The Advantages of our Program
Jeff Copper has developed a revolutionary new way to mass-customize individual ADHD solutions in a group setting by making attention tangible. He has developed various attention exercises that give you the ability to witness your ADHD in ways you never dreamed so you may gain insight on and identify the very systems you have in place right now that work for you! That's right!  Systems and solutions you already have; you just don't realize it!
Why spend hours learning new organizational systems when you can expand on what already works!
Jeff's method is what makes this coaching program so revolutionary. He walks you through basic ADHD brain biology. Then, using his attention exercises, you can witness firsthand how your version of ADHD manifests in its natural habitat (your brain), which then translates into your unique behavior. He then helps you use these insights and coaches you around how to work with your ADHD brain to beat it at its own game.  This is in stark contrast to other programs that focus on behavior modification and fight against biology to beat your ADHD into submission.
ADHD is something that can only be understood by those who experience it. By way of this virtual group program, you'll find power and connection in the ADHD tribe by the realization that others share your plight. Together, you'll learn from each other and work toward moving forward in a safe environment protected by a level of anonymity.
We don't just coach you. We teach you the nuts and bolts of how to coach yourself!
Key Features of our ADHD Aha Group Coaching
Group coaching works because it can achieve a greater impact more quickly and at a lower cost. By connecting with others who share your plight and tapping into the collective wisdom of the group, this peer-learning environment is often as important as the direct interaction with the DIG coaches. We are all in this together and we can "normalize" the suffering and isolation.

You can bet that procrastination, time blindness, and disorganization will be Aha! agenda items!
Your leader and coach is Jeff Copper, accredited life and ADHD coach, faculty member of the ADD Coach Academy, veteran mentor coach, host of Attention Talk Radio and Attention Talk Video, national speaker, professional advisory board member of Totally ADD, and editorial advisory board member of CHADD's Attention Magazine.
Don't think you'll be able to just sit back and take it all in. You'll be doing the heavy lifting. Yes, it will be work but you'll be amazed at how much fun it will be!  Isn't fun the best thing to have?
About the ADHD Aha! Group Coaching Program
Our ubiquitous methodology of coaching each person on different topics has proven effective, unlike other group coaching programs that focus on only one specific area. Why does it work? We teach you what and how WE attend to things while we coach each person individually.  In the end, you get the coaching you need and you will learn how to coach yourself through the techniques that are demonstrated in each session!  How great is that?
This program includes 12 weekly virtual coaching calls:
Calls 1-4: Use attention exercises to coach you on basic observation skills that will transform your understanding of ADHD down to its simplest root form.
Calls 5-12: We share what we attend to as we use our observation skills to coach you towards what works. As we coach you, we'll be excavating Ahas! on your topic.
It will surprise you to know that, as we work with others, you'll find some of their Ahas! will manifest as an Aha! for you. Think of it as an added bonus — a group member's experience excavates an Aha! in your life.
Stop sabotaging your success and start now! 
Sign up for our ADHD Aha! group coaching program individually or with a group of friends and start excavating your Ahas today!
Here is how:
PRIVATE GROUPS (minimum 4 participants): Contact us directly at info@digcoaching.com or call 813-837-8084 for scheduling options. This program costs just $3,000 for a private group of up to six participants, which is a true value when you consider the thousands of dollars otherwise spent on rabbit holes and dead ends.
PUBLIC GROUPS:  Register today for our next scheduled program!
Weekly calls are on:   Thursday
Total Calls:  Twelve (12)
Time of Day:   Noon to 1:00 p.m. ET
Launch Date:   August 17, 2017*
Cost:   $779 per participant
*Launch date may be delayed due to participation requirements. Limit 6 per program. Calls are recorded and available if you miss one.
PAYMENT IN FULL:  $779.00 US

PAYMENT PLAN:
Deposit $450 US, plus 2 payments of $200 at 30 days and 60 days


Future Programs: CLICK HERE to share your availability or desire to be notified of our next class.
What Others Are Saying
"Jeff Copper pays attention to attention like no one else, and fortunately for the rest of us, he shares his insights in a totally understandable way." ~ Ari Tuckman, Psy.D., MBA
"Before coaching, I had a fair amount of anxiety that follows me through the week, trying to keep up with work that just didn't seem to get done. In working with Jeff, I began to realize that completing things that require executive function at point of performance is key to me. As a matter of fact, it's everything. Understanding that allowed me to make some very small adjustments that made a big difference. This was my aha moment. If you're struggling and need an outside perspective to find solutions that work for you, I would highly recommend Jeff Copper." ~ John Darby, Ocala FL
"I was on the verge of giving up hope that I could ever organize myself or manage a seemingly scattered over-abundance of ideas enough to carry out bigger plans anymore. I was constantly feeling overwhelmed in trying to organize and prioritize any ideas and plans, much less to follow through on any of them in a structured, predictable way. I had worked through so many books, and self-help courses that I thought by now it should be easier, but it wasn't. I learned to feel constantly overwhelmed as I kept running to catch up. I always felt burned out. I was on my second attempt at building a business, and I was about to commit the rest of my savings to a serious program to help me get organized. I was pushing myself to make a decision on whether I should give up my idea of being an entrepreneur. I was beginning to believe after all these years I might not be cut out for this. My experience with Jeff Copper in DIG Coaching changed all of that around! His Coaching Yourself course was filled with numerous revelations and ahas about how I can actually get through any sticking points by just learning to observe how my brain works in those situations. The power of attention and observation was explained in ways no one else had ever taught before. I no longer need to hire tons of coaches to get through my sticking points. I've got better tools now! I learned how to look at ways my brain operates already and build on that versus trying to make my brain work like others say it should. Jeff helped me realize I actually already had some personally customized systems that not only worked but were more efficient than I realized. He really knows how to ask the right questions and he doesn't tell you to do it his way! That's powerful coaching! If I had not taken Jeff's course, I'd still be frustrated, feeling overwhelmed, stuck and wondering if I should throw in the towel on some of my bigger dreams. I'm already moving forward in big ways, and not only am I confident I'll be less overwhelmed, but I'm starting to realize building a life with entrepreneurship can be fun again! Working with DIG Coaching was one of the most powerful coaching experiences I've had in a long time! It's saved me so much time and frustration! I'm forever grateful!" ~ Krista Papp, Milwaukee, WI