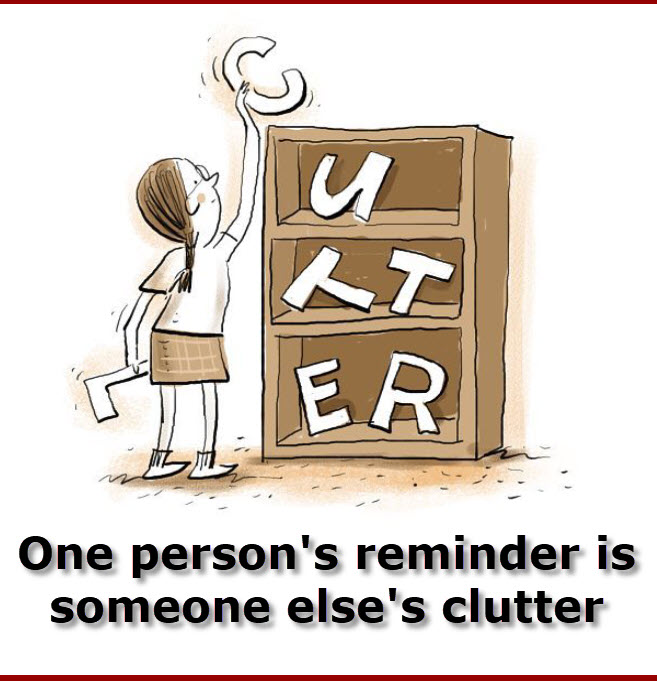 Do you need visual reminders to remember to complete a task or attend an event? Could your "reminders" be clutter to your mate/roommate? One of my recent clients was very visual. If something was out of sight, it was out of mind, so he left items out to serve as visual reminders.
Dr. Russell Barkley, one of the world's leading experts on ADHD, tells us that those with ADHD need to focus on the point of performance. Thus, leaving a screwdriver on the kitchen counter is a good structure, as it will remind him that he needs to tighten a few screws on the front porch. Simple enough, right?
But what if your significant other has an opposing style and your visual clue is just clutter? Some individuals are emotionally very sensitive to clutter and may not feel at home with it. If he or she thrives in an environment in which "everything has a place and a place for everything," then this screwdriver might be tolerable if it's the only visual reminder for a week or wasn't combined with other reminders. But if multiple reminders are left on the counter every day, this may be a source of conflict.
There are 2 types of clutter:
I just drop it and forget about it (very ADHD prone, i.e., socks on the floor).
I need this part on the countertop to remind me to finish a project.
As the non-ADHD partner, you will want to respect this. You can consider areas of the house that are clearly the "clutter zones" and are left alone. The parts that really matter, perhaps the kitchen and areas where family and friends congregate, can be left clutter-free.
What about the "hurricane children" who come home from college? Take a laundry basket and move it into a "zone." It helps the clutter-free person, but it doesn't change the clutter-prone person.
Aha! – a compromise. Consider making a home for your clutter. Maybe place an "inbox" on the counter to hold the reminders to make it look like it is supposed to be there. It doesn't have to be an inbox, but the idea is to co-design an environment for your styles to coexist.
You can't change the other person. You can request, but negotiation is crucial. Their reminder systems are as legitimate as your need to put things in a drawer. Please think about your zones and how you work with your partner!