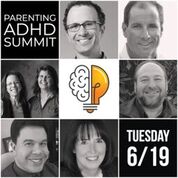 Parenting ADHD Summit with Penny Williams – 38 of the world's ADHD and parenting experts share top Insights and Strategies for Effectively Raising a Child with ADHD.
More than 28 hours of expertise on how to let go of traditional expectations, boost your child's self-esteem, manage child and family stress, navigate school struggles, handle emotional intensity, empower your child for success and confidence, take care of yourself, parent with purpose and intention, and so much more.
You can watch all the videos FREE, the week of June 18-24, 2018.